Lecture & Event
CLS, Tokyo Tech. International Forum 2018
March 4-5, 2018
CLS, Tokyo Tech. International Forum 2018
"Redox regulation of protein functions, transcription, translation and folding"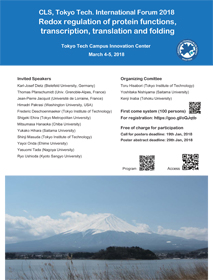 Date
March 4-5, 2018
*Program(PDF)

Venue
Tokyo Tech Campus Innovation Center
Poster presentation on 4th Mar.
Call for posters deadline: 19th Jan,
2018 Poster abstract deadline: 29th Jan, 2018
Forum banquet
Forum banquet will be held on 4th Mar. with the fee of 5,000 yen (3,000 yen for the students).
 First come system(100 persons)
 Free of charge    
Contact
 Toru Hisabori
 Laboratory for Chemistry and Life Science, Tokyo Tech.
 Nagatsuta 4259-R1-8, Midori-Ku, YOKOHAMA 226-8503
 TEL: +81-45-924-5234 FAX: +81-45-924-5268
 E-mail: thisabor@res.titech.ac.jp