About Laboratory
Message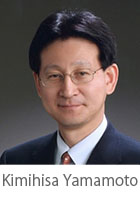 The Laboratory for Chemistry and Life Sciences has been about to celebrate its fifth year since its last major organizational reform, but the institution itself has the history for longer than eighty years than its predecessor, the Chemical Resources Laboratory. This research laboratory was established by an imperial edict of Emperor Showa, stating the following: " leading the research on the chemistry of scientific principles and applications."
 In spite of changing people, this noble philosophy has been passed down throughout the years at this laboratory, and the tradition of fulfilling the task of making social contributions rooted in basic research and the pursuit of science and technology is still being cultivated.
 Although the words "basic" and "application" seem to suggest two contradicting axes, they encapsulate an excellent research philosophy that is in line with modern standards, as it is inclusive--like an ellipse, which has two focal points.
 Taking into account rapidly developing technology in the face of great progress in current science, basics and applications may be considered as two sides of the same coin. In other words, today's discoveries can lead to tomorrow's inventions. This old but new laboratory's philosophy is increasing its importance and is still relevant today. This laboratory is proud to have played a role in pioneering a new era of science and technology in Japan, rooting high aspirations on this philosophy.
 The Laboratory for Chemistry and Life Sciences has the following mission to inherite the above philosophy: "Making contributions to the advancement of human culture and the realization of a more sustainable society through the development of in-depth research, from the basics to the applications of molecular chemistry and life sciences." As we enter the 21st century, we have established the two pillars of life and chemistry by actively incorporating the field of life science in response to the demands of the times, and set up research groups in the following four fields: the chemistry of molecular creation, molecular assembly, molecular functions, and molecular life science. In each field, professor, associate professor, and assistant professors further form research groups to develop unique and advanced study on materials, resources, energy, medicine, life sciences, etc., based on "chemistry."
 We are actively working to build a platform to strengthen our research base in Japan, as part of fulfilling our social responsibilities as a leading research institute of national university.
Since 2009, Our laboratory has participated in activities undertaken by " the Network Joint Research Center for Materials and Devices " acting as a network-type national joint use and research platform, organized in tandem with Materials Chemistry and Engineering, Kyushu University; the Institute of Scientific and Industrial Research, Osaka University; Institute of Multidisciplinary Research for Advanced Materials Tohoku University; and Research Institute for Electronic Science, Hokkaido University. With this base activity as a foundation, we are also working on a project called " Dynamic Alliance for Open Innovation Bridging Human, Environment and Materials," in which the above five research institutes collaborate. Thus, we actively promote and support collaborative research among researchers that belong to each institute by creating networks inside and outside Japan, an endeavor that has already resulted in a number of significant research outcomes.
 Many of our faculty members are still in their 30s and including students--are making significant progress through close cooperation and friendly competition within the laboratory. They are developing highly active and world-leading outcomes rooted in their research strengths. As a result, our laboratory has produced many excellent researchers, employed by academic and industrial institutions in Japan and overseas, forming a globe-spanning network.
 Finally, I will carry on with the solid and traditional philosophy and do my best can deliver its "research" potential and activities to the world as the director of this institution. I would appreciate your continuous cooperation and support.