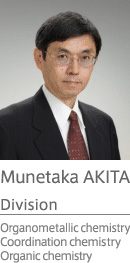 Laboratory for Chemistry and Life Science (CLS) made a fresh start in April, 2016. Its predecessor was Chemical Resource Laboratory (CRL) established in 1939 as a research arm of Tokyo Tech specifically for comprehensive studies on chemistry. Since then, a variety of chemical researches has been conducted not only on scientific principles but also on applications. It is at CRL that Dr. Hideki Shirakawa, the Nobel laureate in chemistry in 2000, has established his chemistry around conducting polymers. On the basis of its brilliant prehistory, CLS was reorganized toward a new goal that may respond to societal changes and scientific trend in a flexible manner.
CLS consists of four major divisions: molecular synthesis, molecular materials design, molecular functions and molecular bioscience. The four divisions cover from fundamental and applied chemistries to life science to carry out a wide range of researches on molecular science and engineering. By bringing domestic and international research activities together, CLS hopes to add a new page to molecular-based chemistry and bioscience that may lead to breakthroughs for the next generation-science and technology. The final goal of CLS is to contribute to the global sustainable development through front-line chemical researches.
At CLS, many collaborative researches are carried out in cooperation with other institutions/enterprises interested in deepening knowledge and achieving technological innovation in chemistry field. Together CLS will make best effort toward solving global issues relevant to material, resource, energy, and life on the basis of chemical science.